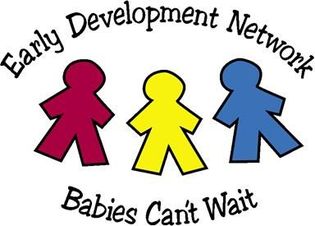 Babies can't wait! Babies grow and learn rapidly from the minute they are born. If a baby is not learning or growing appropriately he can't wait for help. If you have concerns about your baby or another child's development, the Early Development Network can help.
The Early Development Network helps children birth to 3 years of age and their families access services and supports. If a child's development is delayed or if he has been diagnosed with a health condition that will affect his development, the Early Development Network will help his family access an evaluation of his skills in five areas of development: cognitive, motor, speech and language, social -emotional, and adaptive behavior. The evaluation is conducted in the child's home with trained professionals and is provided at no cost to the family.
After the evaluation is completed, the family and the services coordinator meet with the person or persons who conducted the evaluation and a representative of the local school district to discuss the results and to determine what services the child needs. This team works with the family to develop an Individual Family Services Plan (IFSP). The services are provided in the child's home or other setting natural to the child so that learning happens in a setting best suited to the child. The Early Development Network can also help families identify areas of need and assist with accessing services and supports such as respite care and financial assistance for medical treatment.
Early childhood services help babies and children to learn and grow. Research has shown that the earlier children with delays receive instruction and/or therapy, the more likely they are to learn to communicate, to move independently, and to learn to interact with others appropriately.
Babies Can't Wait! If you have concerns about your baby or toddler's development, contact the Early Development Network today. Call 1-800-531-9316 to contact an Early Development Network services coordinator.
read more