Setting up a Private User for Visual Theasurus
The Visual Thesaurus that is being offered for teacher and student use has an option to setup your own user account.  While you don't need to have a user account to use the Visual Thesaurus, there are some benefits to having one established.
Generally speaking the private account offers the most benefit to teachers, as it can be used to store word lists, and to share information with other users.
Please use the following instructions when setting up your user account for Visual Thesaurus.
Step 1: From the main screen, click "Sign in as a different user" (located near the upper right hand corner of the screen).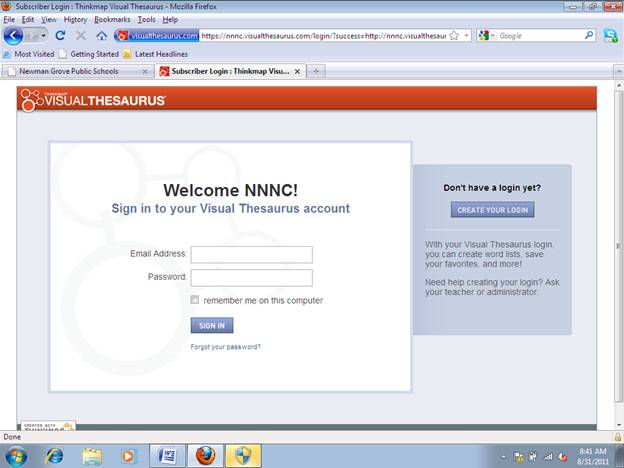 Step 2: From the Sign in screen, click  the "Create your login" button on the right.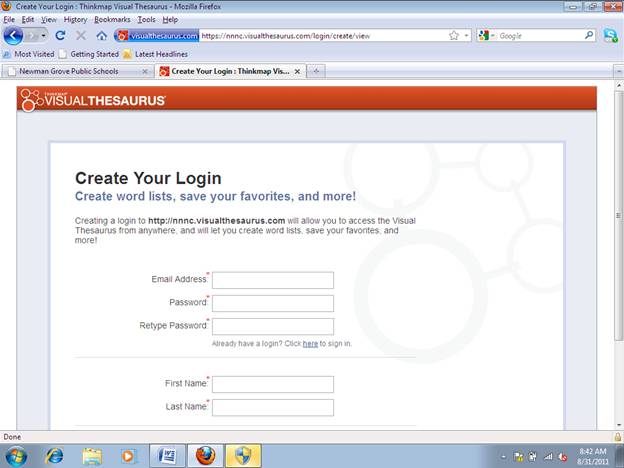 Step 3: Enter the information:
E-mail address:  Please user your esu8.org e-mail address.
Password:  The ESU8 Unit Wide password is:  orders
Retype the password.
First Name: Enter your first name
Last Name: Enter your last name
Click the "Create Login" button
For technical support, you may e-mail:  eantoine@thinkmap.com Reference: NNNC-Nebraska when you e-mail)