Visual Thesaurus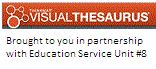 In cooperation with ESU8, we have been provided a visual thesaurus for student and teacher use.  The visual thesaurus is unique in that it provides a visual view of the results of your word search.  
The Visual Thesaurus is an interactive dictionary and thesaurus which creates word maps that blossom with meanings and branch to related words.  The display encourages exploration and learning.  You will gain an understanding of language in a powerful new way.
The link to the site is http://nnnc.visualthesaurus.com or use the Visual Thesaurus button on the right side of our web page.
The link will take you to an online edition which has been customized for NNNC ESU users.  We ask that you access the site using this link, as the number of hits will be used to analyze the usage by the ESU.
No user/password is needed to access and use the site.  However, there is an option to setup a personalized login, allowing you to maintain a history of your searches, and other options.  Information on how to setup your personalized access will be coming in the near future.  Look for it in the RESOURCES section of our web site.